Division 7 Reservoir Replacement
Project Summary (Project No. C2111)
The original intent of this project was to provide a seismic upgrade to the 1-million gallon welded-steel Division 7 Reservoir constructed in 1970. Following analysis done as part of the 2017 update to the District's Water System Comprehensive Plan, the project intent was shifted from upgrading the current 1-million gallon reservoir to replacing it with two 185,000 gallon reservoirs, together totaling 370,000 gallons.
The project also implements an earthquake early warning system (ShakeAlert®) to automatically isolate a portion of the volume from rapid depletion due to water main breaks following an earthquake.  The project is located near Swallow Circle in Sudden Valley.
Project History
The original intent of this project was to provide a seismic upgrade to the existing 1-million gallon welded-steel Division 7 Reservoir constructed in 1970.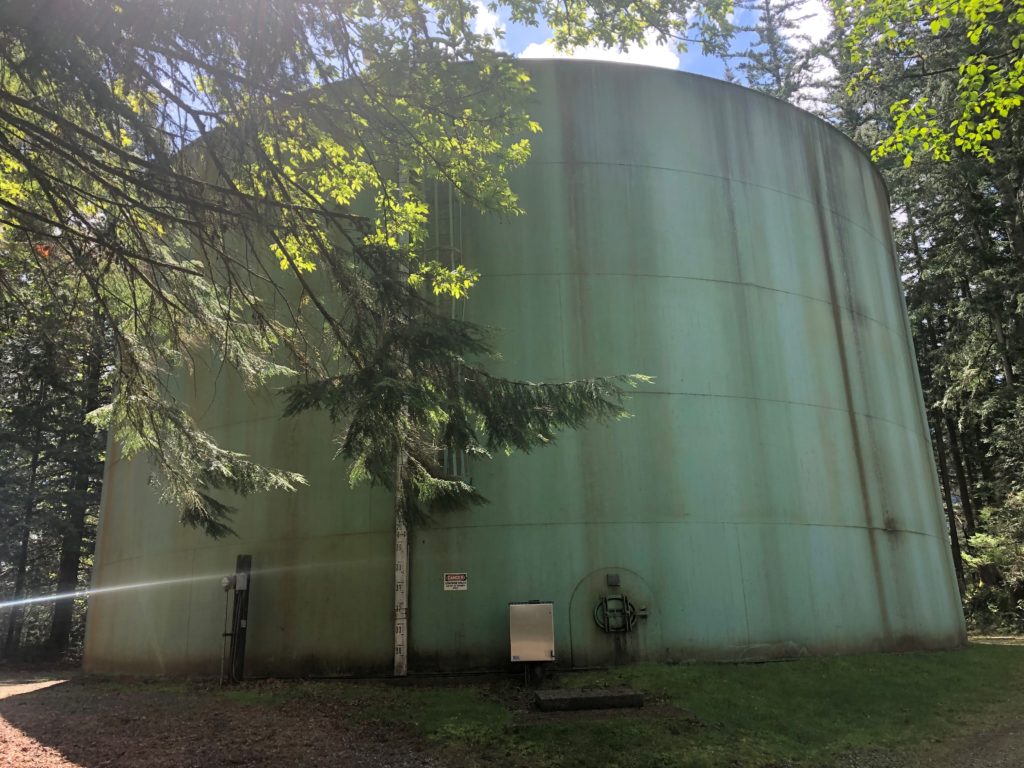 In 2016, BHC Consultants completed a Reservoir Seismic Vulnerability Assessment of all five of the District's welded steel reservoirs which included Division 7, SVWTP Chlorine Contact Basin, Division 22, Division 30, and Geneva reservoirs. The assessment identified the Division 7 Reservoir as having the highest probability of failure and one of the highest consequences of failure, making it the recommended highest priority for retrofit or replacement.
In 2017, a system-wide reservoir capacity analysis found that the 1-million gallon Division 7 Reservoir is oversized. The analysis indicated that the required reservoir size is roughly 0.5-million gallons.  Wilson Engineering LLC prepared a technical memorandum dated February 8, 2018 that analyzed options to perform seismic retrofits to the existing reservoir, or replace it with one or two new smaller reservoirs.
The analysis concluded that two new 185,000 gallon reservoirs provided a significant advantage over retrofitting the existing 1 million gallon reservoir.  Advantages included capital cost, water quality, improved water system pressure, resiliency of having two parallel reservoirs, maintenance, and feasibility of continued operations during construction and future maintenance.
In 2018, the District submitted a Hazard Mitigation Grant application to the Federal Emergency Management Agency (FEMA) utilizing Wilson Engineering's conceptual reservoir sizing. The grant application identified the project as construction of two new reservoirs with implementation of ShakeAlert on each.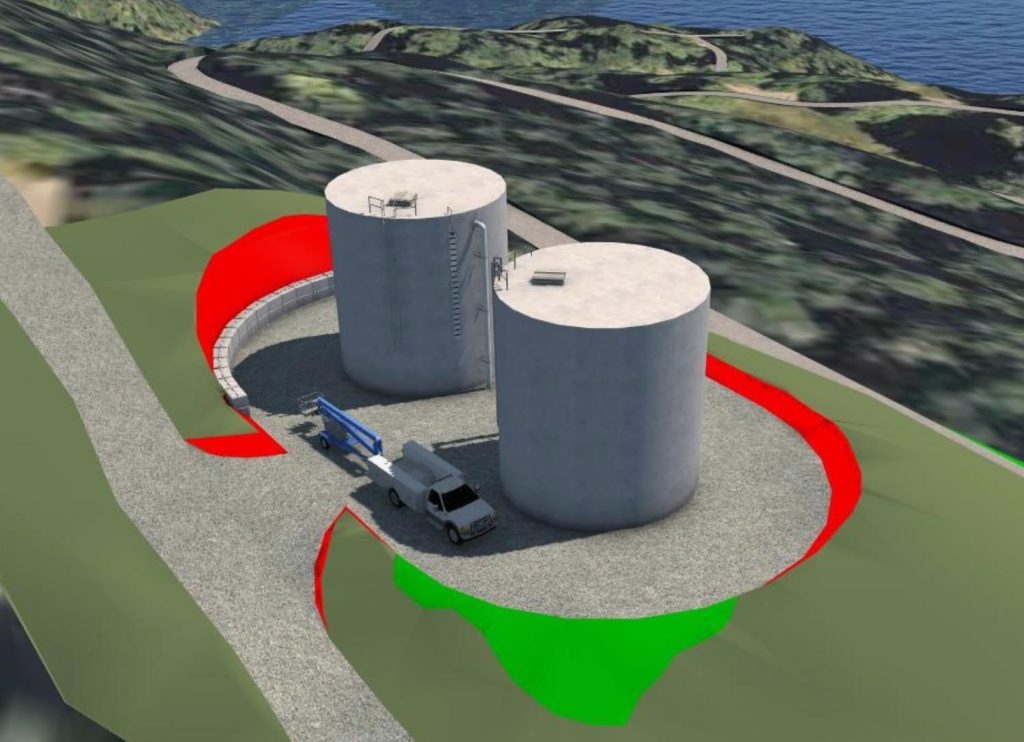 In 2020, FEMA requested additional information to complete their review of the application.  Wilson Engineering prepared a second technical memorandum dated December 28, 2020.  The memo included:
An analysis of the expected duration of a reservoir outage in the case of a severe earthquake that would impact the existing seismically vulnerable Division 7 reservoir.
An analysis of the population that would be impacted by an unexpected outage of Division 7 reservoir.
A capital cost estimate of two welded steel water reservoirs and updated cost estimates for the two concrete reservoirs as detailed in the previous memorandum
Life cycle cost analysis of new concrete reservoirs and new welded steel reservoirs – comparing capital and maintenance costs to achieve 100 year life of reservoirs.
The conclusion was two smaller concrete reservoirs is the best overall long-term option.
Schedule
Phase 1 – Design/Permitting is in progress with the goal to complete in early 2023. A public information session was held on July 12, 2022.
Phase 2 – Construction is targeted for the summer of 2023.
Project Cost
As of October 2022, the total project cost estimate was $2.95M (design, permitting, construction).
FEMA Grant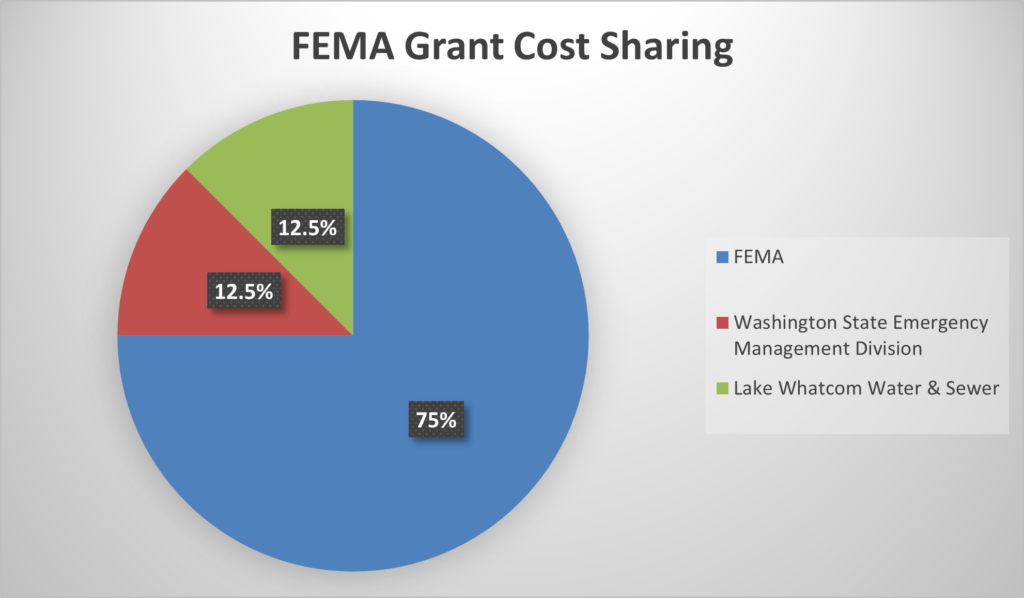 In 2021, the District was notified of the receipt of a Hazard Mitigation Grant for the project with cost sharing as follows: FEMA 75%, Washington State Emergency Management Division (WA-EMD) 12.5%, and Lake Whatcom Water and Sewer District 12.5%.
Phase 1 Design/Permitting Grant Funding is summarized as follows:
Federal Funds (75%)                                    $337,456.50
State Funds (12.5%)                                     $56,244.25
District Local Match Funds (12.5%)            $56,244.25
Total Grant Amount                                   $449,954.00
A grant agreement amendment is planned for Phase 2 Construction once predesign, design, and permitting are near completion so that the construction scope of work and construction costs are well defined.
Project Contact
Bill Hunter, PE
District Engineer
360.734.9224
bill.hunter@lwwsd.org
Project Library